Today's Scripture:
(Theme: An invitation to enter joyfully into God's presence. His faithfulness extends to our generation and beyond.)
"Make a joyful noise to the LORD, all the earth! Serve the LORD with gladness! Come into his presence with singing! Know that the LORD, he is God! It is he who made us, and we are his; we are his people, and the sheep of his pasture. Enter his gates with thanksgiving, and his courts with praise! Give thanks to him; bless his name! For the LORD is good; his steadfast love endures forever, and his faithfulness to all generations."
Psalm 100
My Pastor preached on Psalm 100 a few Sundays ago. That same week I read an article on a gentleman who had been praying to God to take away a particular temptation/sin from his life. This man realized after time that he had no interest in being reconciled to God or having a relationship with Christ, he just wanted that temptation to go away. After praying and reading the Bible further he realized that God was far more concerned with first fixing his heart than he was with fixing other things in his life.
As this man explains, God's desire is that we all would come to Him through Christ to receive new hearts that love and adore Him. Nothing can even begin to be done as far as the untangling of our sins until we receive new hearts that love and adore God.
Psalm 100 gives praise, honor, glory and power to the Lord which is exactly what he wants us to do FIRST. Many of our temptations and sins may be lifelong struggles and a daily process but with Christ focused hearts we can gradually be more like Him and free.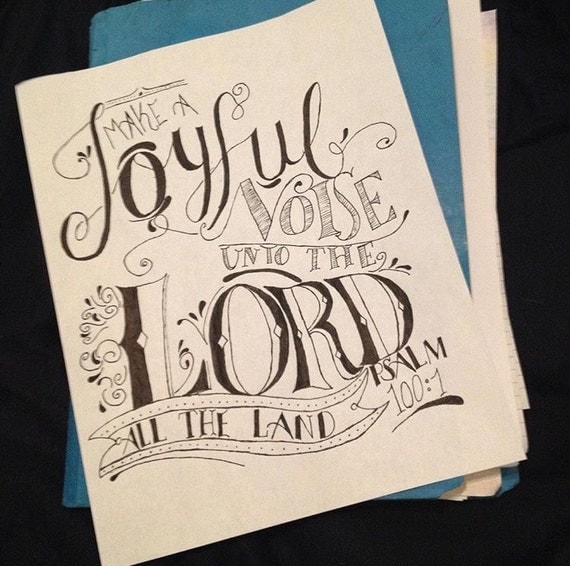 Thanks for joining me today for Scripture Sunday.  And a special thanks to my good friend, Anna Ahlgren for today's contribution!
In addition to being a blog that inspires readers with home decor and recipes and diy's, it is my prayer that Starfish Cottage will also become a place of inspiration and encouragement for your spirit.  
Through the years, God's word has been a powerful source of strength and comfort…His promises have consistently provided me with hope when I felt hopeless, strength when I was weak, peace in the midst of chaos, and comfort in times of great sadness.  I believe that God's word is alive and able to inspire and encourage us on a daily basis.
If you would like to contribute your special verse and story/thoughts, please send it to me by email at kristyseibert@gmail.com